Meeting
This page gives you more information on last 2 strokes meeting on Lurçy-lévis circuit.
---
2 strokes on circuit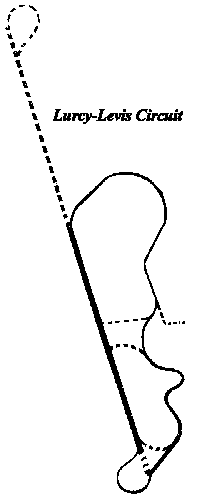 The date for the 2000 meeting were the 13 and 14 of july 2000 on the track of LURCY-LEVY in the center of France. The cost will be as close as possible as last year.
We'll use the long cicuit 2km600 (in plain line on the picture). It is necesary to have the bike's papers, an insurance et the driving licence because the track is not registrated by the French Motocycle Federaration.

The rules and the form are avaliable for download. The conditions were the same than last year. You could sleep and have water for free on the raceway. It's possoble to camp outside the circuit for Thursday night and inside the circuit for the Friday and Saturday nights.
You can contact me by email.
The weekend was good with a very nice saturday (sunshine but cold) with 2 series of 30 minutes per rider, a sunday morning ok (no sunshine and pretty cold) and saddly a rain in the afternoon came and the afternoon series were very wet and cold.
If you got some more picture thanks for sending them to me.
All track picture by JP MARIN